Belgian Student-Athletes in the USA
TIB Power Ranking: Belgian Student-Athletes in the USA (Feb. 14) (Full Review)
Much like last season we at TIB will again publish our several Power Rankings throughout the season. Our ranking is based on the TIB rating which is calculated using the players' stats and is somewhat similar to the standard efficiency rating but also takes into account the level of competition the player competes in.
---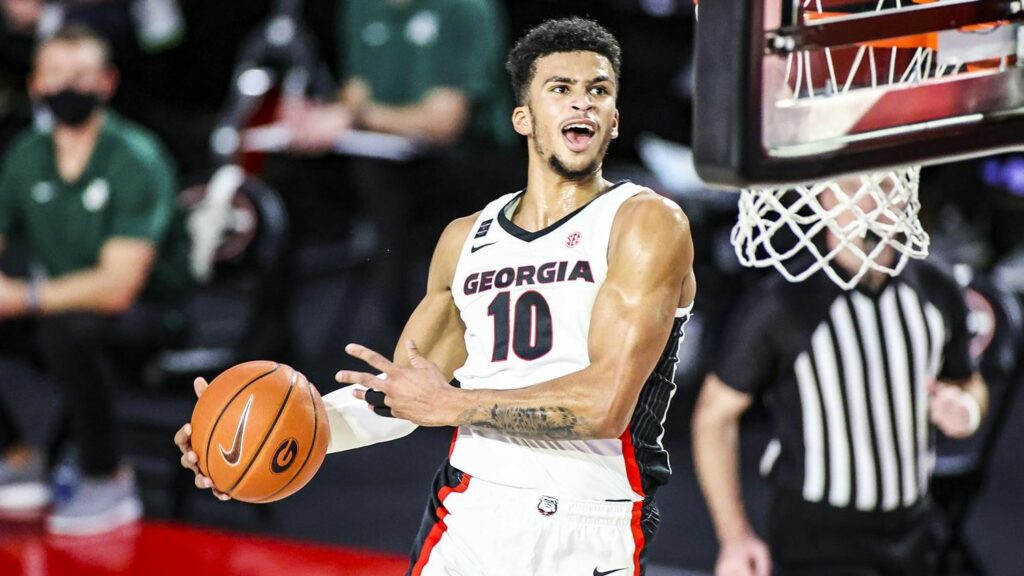 In his sophomore year at Georgia Toumani Camara continues to impress with his solid overall play. Having started in each of his 19 games the athletic forward is leading the way for Georgia as he's third on the team in scoring (12.6 ppg), first in rebounding (7.6 rpg), third in passing (1.8 apg), fourth in steals (1.3 spg) and first in blocks (0.9 bpg).
All in all he has already recorded 6 Double-Doubles over the course of the season, including a 15 points and an impressive 17 rebounds performance in their win against Montana (Dec. 8). He notched a season-high 19 points on three occasions this season and has dished out a season-high 5 assists on two occasions.
Although Camara is clearly difficult to stop when he's slicing through the paint, he still needs some improvement with his shooting touch as he's knocking his threes down at only 22.7% and is shooting 62.2% on his free-throw attempts.
With his transfer from Detroit Mercy (NCAA) to Salt Lake CC (NJCAA) this off-season Sam Hofman is enjoying a much increased playing-time as he went from playing only 7.5 mpg at Detroit Mercy to a respectable 20.8 mpg at Salt Lake.
Hofman is clearly earning his playing time for the winning Salt Lake squad with their 9-1 record and has even been inserted into the starting line-up in 6 out of his 10 games. He has finished in double-figures scoring on 3 occasions, including a season-high 19 points in the season-opening win against Northwest College (Jan. 22).
So far this season he's shooting an excellent 46.7% from behind the three-point line and is equally efficient on his 2 point attempts with his 59.4%. Hofman is currently fourth on the team in scoring (8.7 ppg) and third in rebounding (4.5 rpg).
In his fourth and final year at Concord David Bea Mulumba has stepped things up slightly and has started the year with a solid Double-Double of 12 points & 12 rebounds in the win at Charleston.
The following two games he each time finished in double-figures scoring but then suffered a minor injury which kept him on the sidelines for a couple of weeks. Up to that point Mulumba had been a fixture in the starting line-up but on his return against Frostburg State (Jan. 30) he had to content himself with 13 minutes off the bench.
Since then he has been working himself back into the rotation and this past weekend he showed to be completely back as he played 38 minutes and finished with 10 points, 8 rebounds, 4 assists, 3 steals and 1 block for a very solid all-rounded performance in the OT win against Davis & Elkins (Feb. 13).
Playmaker pur sang Swenson graduated from Westminster Academy High School and joined Stetson this off-season to start his collegiate career.
Despite being a newcomer at Stetson – and a freshman to boot – Swenson has already received the starting-nod on 7 occasions this season and is showing nice flashes of his play-making abilities. Despite mainly coming off the bench he still manages to lead his team in assists with 3.5 apg and recorded a season-high 8 assists in only his second game (a loss at Miami on Dec. 4) of his collegiate career.
He did however struggle big time with his shooting and has only recently been able to up his percentages as he's currently managing only 34% on his 2-pt attempts. His 3-pt shooting on the other hand looks as steady as ever as he's knocking them down at a very nice 43.8%, while his free-throws are also being converted at a satisfying 78.3%. Last weekend he had his best scoring output of the season when he finished with 13 points (on 3-7 FG shooting & 5-6 FT shooting) in a loss at Kennesaw State (Feb. 13).
This off-season Verplancken cashed in on an excellent season at Glenville State (NCAA2) to rack in the D1 offers and eventually settled on Southern Illinois (NCAA) to continue his collegiate career.
In his first season with the Salukis Verplancken had to adapt to his new surroundings, the higher level of play and his new role as he's no longer a fixture of the starting line-up but is most of the time counted on to bring a spark coming off the bench. So far he has been inserted into the starting line-up on 9 occasions in his 19 total games.
His new role hasn't stopped him from scoring in double-figures 6 times this season with a season-high 14 points on 3 occasions, including a 14 pts & 4 rebs performance in a loss at Bradley (Feb. 6). The biggest drop in his numbers compared to his year at Glenville State comes in his passing as his average is down from 3.1 apg last year to only 0.9 apg this season.
In his second year at North Georgia Darnell Snyers has gotten himself inserted into the starting lineup on 5 occasions in his 8 games so far this season.
He has scored in double-figures twice this season with a season-high 13 points in the loss at USCA (Jan. 9). He's currently third on the team in assists with his 2.1 apg and second on the team in steals with his 1.6 spg.
His scoring however still needs some work as he's only shooting 45% on his 2-pt attempts, 25% from behind the arc and 60% from the charity stripe for his total average of 6.8 ppg which puts him in sixth place on the team.
After a difficult season at South Plains College (NJCAA) last year Thielemans has made the transfer to Polk State (NJCAA) this season where he has regained the joy of actually being out on the court rather than on the bench.
Although their season has been cut extremely short due to the global pandemic Thielemans has so far played in all 6 games and exploded in the win against Daytona State when he recorded a season-high 19 pts and a season-high 10 rebs for his first (and so far only) Double-Double of the season. He has been very solid on the boards as he's fourth on the team with his 4.0 rpg and is proving to be a reliable threat from behind the arc, where he's knocking them down at 50%.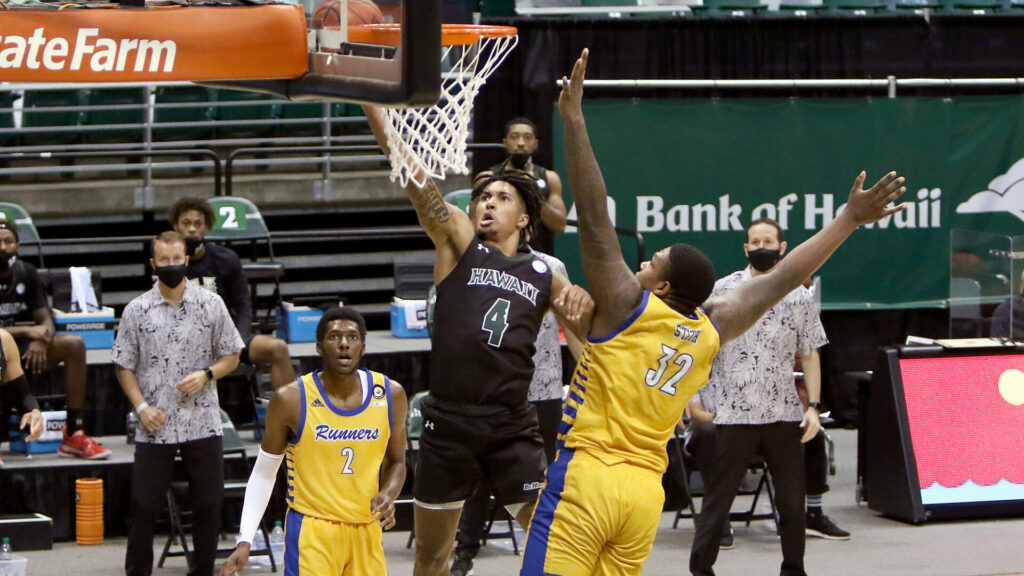 Noel Coleman traded-in San Diego (NCAA) for Hawaii (NCAA) this off-season to continue his collegiate career.
The change of scenery has certainly had a positive effect on his playing time as he went from 9.4 mpg to a solid 17.5 mpg this season and he's received 8 starting nods in his total of 12 games played so far.
Unfortunately so far he's only been able to finish in double-figures scoring twice this season with a season-high 11 points in a win at UC Riverside (Jan. 8). His shooting woes certainly explain his inconsistent scoring output as he's only shooting 37.5% on his 2 pt attempts and 33.3% on his 3 pt attempts. His free-throw shooting does seem unaffacted as he's knocking those down at 78.6%.
The youngster formerly from Okapi Aalstar has made the move abroad to Salt Lake CC (NJCAA) for his first experience in the States.
So far the experience has been short-lived as he suffered an injury in the season-opener and has been sidelined ever since. In that season-opening game against Northwest College (Jan. 22) Mark was inserted into the starting line-up and managed to record a steal and a block in his 6 minutes of action before sustaining his injury.
We hope he will return to action very soon as we expect a lot of good things from the athletic forward.
In his third season in the States Max Dehon has transferred from Northwest (NJCAA) to Multnomah (NAIA) this off-season after a brief interlude as a truck-driver.
Due to the global pandemic Multnomah's season has only started last week on Feb. 10 and so far Dehon has competed in 4 games. Unfortunately all 4 of those games turned into losses. Although Dehon has started in 3 out of those 4 games his output on the offensive end has remained limited with a season-high 6 points in a loss at Idaho (Feb. 12). He is doing a solid job on the boards however and is second on the squad with his 4.0 rpg.
In his third year competing in the NCAA and his second year at UTEP Dekoninck is struggling to find playing-time and most of the time has to content himself with some scrap-minutes.
So far he has only appeared in 7 out of the team's total 20 games and is only averaging 3.7 mpg. Despite his very limited minutes he is making the most of it, averaging 1.6 ppg on an very efficient 80% on his 2 pt attempts and 75% on his FT's.
Dierynck made the move from Central Maine (NJCAA) to Glenville State (NCAA2) this off-season and is obviously still working on finding his spot in the rotation.
So far he has only competed in 4 out of the team's 9 games and is only averaging 2.8 minutes of playing time in those 4 games. So obviously it's pretty difficult to say much about his performances so far this season and we can only hope that his chances will increase as the season progresses.
Unfortunately Bosmans-Verdonk seems to be in a very similar situation in his second season at Illinois (NCAA) where he has so far only appeared in 3 games, totaling a mere 3 minutes of action.
After two solid seasons at Iowa Lakes (NJCAA) Alan Kikwaki has found his way to Southeastern Oklahoma State (NCAA2) this off-season.
Despite a solid season-opener at Southwestern Oklahoma State (Jan. 9) in which he played 18 minutes and recorded 4 pts, 3 rebs & 1 blk, Kikwaki's chances have diminished significantly since then, only averaging 3.8 mpg in his next 6 games.
---