Belgian Student-Athletes in the USA
Belgian Student/Athletes in the USA (2022-'23)
Much like every season we again take a look at all the Belgian youngsters who have decided to take the step towards collegiate basketball in the USA and follow their performances throughout the season. Here's our overview for the upcoming season. If you know of any players who are missing or see any mistake in this overview please let us know and we'll update our list.
NCAA:
After his impressive freshman year in which he was awarded the Big West Freshman of the Year award and was selected to the All-Big West Second Team, 20 year old left-handed Guard Ajay Mitchell is set to return to Santa Barbara as their undisputed floor-leader. With his array of outside shots, mid-range jumpers, left-handed floaters and his passing vision Mitchell should prove a menace to opposing teams throughout the season as he aims to improve on his already very solid numbers from last year when he averaged 11.6 ppg (on 53% FG shooting), 2.2 rpg and 3.7 apg.
After spending the past two years at Southern Illinois Belgian Guard with Dominican roots Steven Verplancken has decided to transfer to Weber State this off-season for his junior year. With already 3 very solid seasons of college basketball under his belt, we can only presume that Verplancken will once again play a big role on his new squad and will be a leader on which new Head Coach Duft will rely upon. Last year Verplancken averaged 6.6 ppg, shooting 40.5% from behind the arc, along with 2.3 rpg & 1.0 apg, while starting 25 of his 31 total games.
Another Belgian youngster who has decided to transfer this off-season is Big Man Benjamin Bosmans-Verdonk who after 3 years at Illinois will now finish out his college career at South Carolina where he will be a redsirt junior this year. Off the court Bosmans-Verdonk graduated from Illinois with a degree in psychology and will now be looking to add a law degree at South Carolina. On the court Bosmans-Verdonk saw very little action these past 3 years, playing in a total of only 40 games and a meagre 6.6 minutes per game in which he averaged 1.7 ppg & 2.2 rpg.
The expectations are high for the left-handed guard who enters his junior year at Hawaii after leading the team in scoring last year with his 14.8 ppg on a phenomenal 44.1% shooting from behind-the-arc. Besides his scoring Coleman also added 3.1 rpg & 2.0 apg, starting in 18 out of his 20 games, earning him a spot on the Big West Second Team last year.
For his senior year 22 year old Forward Sam Hofman returns to Houston Baptist where he has become one of the team's leaders last year, starting in 25 out of their total 29 games. In those 29 games Hofman played 26.9 minutes per game in which he averaged 8.8 ppg & 5.0 rpg, recording 2 Double-Doubles over the course of the season, including a 18 points & 13 rebounds effort in a win at A&M Corpus Christi.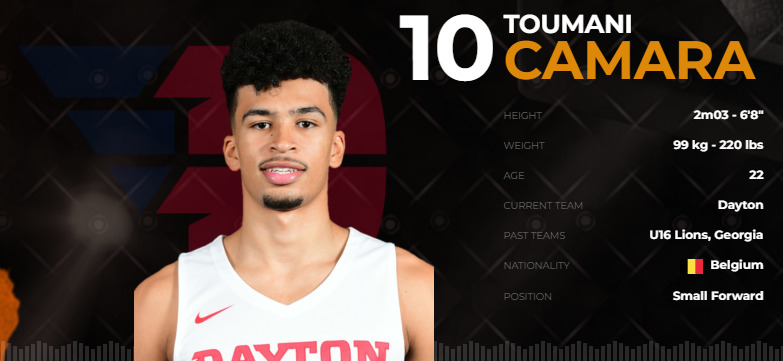 After initially declaring for the NBA draft back in April 2022, Camara eventually withdrew his name and is set to return to Dayton for his junior year. It'll be his second year at Dayton after initially starting his collegiate career with Georgia. Last year Camara was one of the main performers for Dayton as he averaged 10.9 ppg, 6.9 rpg, 1.6 apg, 0.8 spg & 0.8 bpg in 27.1 mpg, starting all of his 34 games played. He was named to the Atlantic-10 Third Team for his efforts.
21 year old Center Aubin Gateretse returns to Stetson for his sophmore year where he will again team-up with that other Belgian Dibongue Swenson. In his freshman year Gateretse saw limited action, playing in 19 games, while averaging 2.5 ppg & 1.9 rpg in 9.2 mpg. He had his best game of his collegiate career so far in a win against Johnson (Fl) where he finished with 12 points, 7 rebounds & 3 blocks, while only playing 11 minutes. Hopefully we will see more of those type of performances from him this year.
Arguably the best passer of all the Belgian youngsters in the USA this season is Stephan Dibongue Swenson who is set to tip-off his junior year at Stetson. Last year Dibongue Swenson became the undisputed floor-leader for the Hatters as he started in 27 out of his 30 games, leading the team in passing with his 5.3 apg. He also added 7.2 ppg, 1.7 rpg & 1.4 spg, while playing 26.8 mpg.
After his excellent season at Colby Community College (NJCAA) Allen Mukeba has transferred to NCAA college Missouri-Kansas City for his sophomore year where he will team up with his brother Logan. It's a nice reward for his impressive performances at Colby where he averaged 12.7 ppg, 7.6 rpg, 2.4 apg, 1.1 spg & 1.3 bpg in 28.5 mpg, while starting all 31 of his games. His hard-work and athleticism were awarded by a selection to the All-Region 6 Defensive Team and his step-up to the NCAA. I'm curious to see how he will handle the improved competition but I have no doubt that he will adapt quickly and will become a fan-favorite in no time.
Joining his brother at Missouri-Kansas City is Logan Mukeba who previously played at Lee Academy (HS/Prep). It'll be his freshman year for the youngster who comes from Charleroi and has also played with BC Oostende. Much like his older brother Logan is an athletic youngster who plays with a lot of heart and should have no issues working himself into the rotation for the Roos.
NCAA2:
After a season at Combine Academy left-handed Point Guard Lex Van Den Bergh has found his way on the roster of Belmont Abbey in the NCAA second division.
NAIA:
Alan Kikwaki returns to Dakota Wesleyan for his senior year after previously playing at Iowa Lakes (NJCAA) and Southeastern Oklahoma State (NCAA2). Last year Kikwaki played a total of 21 games as he averaged 4.3 ppg & 2.5 rpg in 14.0 mpg. He had his best performances during the opening weeks of the season when he finished in double-figures scoring in 4 consecutive games, including a season-high 18 points in an overtime loss to Valley City State.
NCCAA: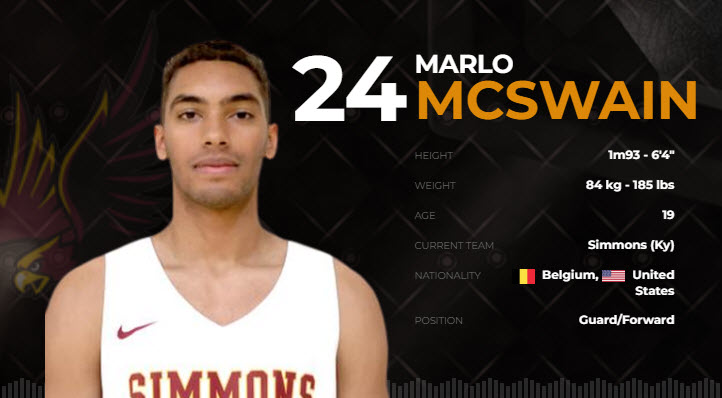 The son of Mark McSwain, Marlo graduated from Eastern High School last year and will now start his collegiate career at Simmons College of Kentucky in the NCCAA. Marlo previously played for United Basket Woluwe before moving to the States.
NJCAA:
19 year old guard Samuel Swolfs has left Spirou Charleroi this off-season to start his collegiate career with the Otero Rattlers in Colorado. Last year Swolfs played for Charleroi in Top Division Men 1 where he averaged 8.6 ppg, 1.7 rpg, 1.5 apg & 1.3 spg in 21.2 mpg, starting in 14 of his 25 games.
Manu Musemena returns to Mineral Area college for his sophomore year after averaging 3.6 ppg, 2.3 rpg & 1.6 apg in 27 total games played, starting 11. Hopefully the defensive stand-out will be able to up his numbers this year
Tom Di Maria is another youngster who has moved on from Spirou Charleroi to Santa Fe where he will start his collegiate career. This past summer Di Maria was also the starting Point Guard for our U18 National Team where he averaged 11.4 ppg, 3.1 rpg, 3.3 apg & 1.6 spg in 21.1 at the European Championship. Before the EC he played for Spirou Charleroi in TDM1.
The third and last youngster from Spirou Charleroi who made the move to the USA this off-season is Daniel Bula who will start his collegiate career at Western Nebraska. With Charleroi Bula played in TDM1 and averaged very solid numbers with 12.8 ppg, 3.6 rpg, 1.3 apg & 1.3 spg in 25.4 mpg. This summer he also played for the U20 National Team at the European Championship.
The former player from United Basket Woluwe Max Postiglione has moved from Lee Academy last year to start his collegiate career at Northwest. He will look to have his impact on the squad with his spot-up shooting and defense.
Tom Mark comes off an excellent year at Eastern Wyoming where he was selected to the Region 9 Second Team with his averages of 15.3 ppg, 9.4 rpg, 1.3 apg, 1.4 spg & 2.2 bpg in 24.3 mpg, starting 23 of his 26 games. This off-season Mark then moved on to Tallahassee for his sophomore year.
The former Spirou has moved from Veritas Academy last year to start his collegiate career at Panola (Texas) in the NJCAA. Previously Mattioli has also played for the U16 National Team in the summer of 2018 when he averaged 6.8 ppg, 1.6 rpg, 1.4 apg & 2.0 spg.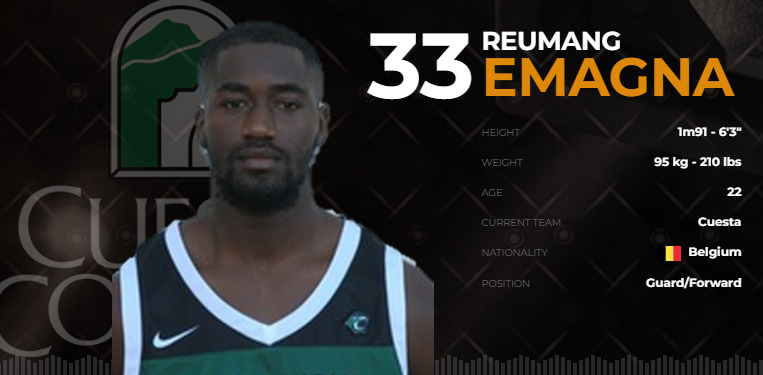 Reumang Emagna returns to Cuesta College for his sophomore year. Last year the Guard/Forward averaged 6.4 ppg, 2.6 rpg & 1.3 apg in 20.7 mpg, starting in 12 of his 26 games. Previously Emagna has also competed at Tri-City Christian High School and Impact Academy.
Sammy Bah continues his collegiate career at Quinsigamond where he is set to start off his sophomore year after graduating from Wachusett High School. Last year Bah exploded on the scene as he averaged 18.8 ppg, 7.7 rpg & 2.0 apg in a total of 19 games played.
19 year old left-handed shooter Vic De Wilde comes from Spire Academy to start his collegiate career at Lamar Community College. De Wilde is the nephew of Ann Wauters and was a member of Elite Athletes Academy in Belgium.
HS/Prep: